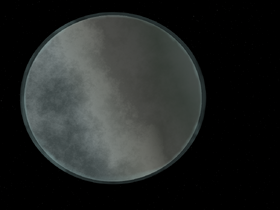 Postęp cywilizacyjny - nieokreślony
Wynalazki: energia krystaliczna, transport atmosferyczny, radio
Średnica planety: 9615 km
Cywiliazacja ZeanEdit
Na planecie można rozróżnić dwie rasy - Południowców i Północnych. Nie prowadzą ze sobą wojen - nie ma nawet zapisków w kronikach. Nie można jednak powiedzieć, że technologia rozwija się tam prężnie, bo wynalazki są jakby przemieszane z różnych epok. Umieją pozyskiwać energię krystaliczną, mają zbudowane tory atmosferyczne szybkiego ruchu, ale też słabe radio. Komunikacja idzie na słabym poziomie, nie ma tam maszyn komputerowych ani telekomunikacyjnych (oprócz radia). Ostatnio na planecie kładzie się dużo nacisku na eksperymenty chemiczne głęboko pod ziemią, a także wykopaliska i wydobycie surowców na południu.
Strefy klimatyczne można rozróżnić na następujące:
- polarny
- subpolarny
- umiarkowany chłodny
- stepy
Mimo bardzo niskich temperatur Zean żyją dosyć długo i dobrze się trzymają. Unia Galaktyczna, co prawda nawiązała kontakt z tą cywilizacją, ta jednak nie ma zamiaru rozwijać przemysłu kosmologicznego i tym samym wtrącać się w kosmos. Mówią, że to nie wróży nic dobrego.
Ad blocker interference detected!
Wikia is a free-to-use site that makes money from advertising. We have a modified experience for viewers using ad blockers

Wikia is not accessible if you've made further modifications. Remove the custom ad blocker rule(s) and the page will load as expected.