Istoty rozumne
Wynalazki -
szybka komunikacja w kosmosie, teleporter, zawieszanie obiektów, poskromienie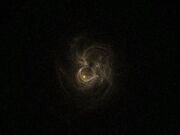 natury, broń niszcząca planety, napeęd międzygalaktyczny, rozszczepiacz atomów.
257 mln km od Słońca
Skład atmosfery:
Masa planety:
Średnica: 15223 km
Posiadane księżyce: 3/1 (3 kuliste, jeden niekształtny)
Układ słoneczny: Ituceneh
CywilizacjaEdit
Cywilizacja z tej planety daje nam sporo do myślenia. Są neutralni aczkolwiek cały czas zajmują coraz to nowe planety tworząc kolonie lub terraformując je. Umieją zawieszać obiekty w powietrzu oraz konstruować teleportery, co jest już na bardzo zaawansowanym poziomie. Żadna z cywilizacji nie pamięta owej ze Svadru w czasie rozwoju. Właściwie to 1000 lat temu nie było na tej planecie żadnych istot rozumnych. Albo więc nie jest to ich planeta matka, a tylko kolonia, a oni sami przybyli z innej galaktyki bądź z innego czasu.
Nie tylko umieją przebywać czarne dziury, ale także je tworzyć. Prawdopodobnie jako jedyna cywilizacja założyli kolonie na planecie gazowej. Stworzyli też sztuczne słońce, które daje swiatło i ciepło planecie wędrownej, na której założyli kolonie.
Ad blocker interference detected!
Wikia is a free-to-use site that makes money from advertising. We have a modified experience for viewers using ad blockers

Wikia is not accessible if you've made further modifications. Remove the custom ad blocker rule(s) and the page will load as expected.