Wynalazki: broń plazmowa, statki kosmiczne z napędęm międzygwiezdnym, zdolność terraformacji planet do klasy 3.
Średnica planety: 11612 km
Cywilizacja EurytusEdit
Cywilizacja dobrze rozwinięta technologicznie. Ich statki kosmiczne z napędęm międzygwiezdnym są dobrze wyposażone i potrafią terraformować planety do klasy trzeciej. Na planecie nie ma wojen ani mniejszych konfliktów, są jedynie zorganizowane kraje, które żyją ze sobą we współpracy. Ich zaawansowana broń plazmowa pozwala usunąć szkodników, buntowników lub wrogo nastawioną cywilizację. Niektóre statki posiadają skomplikowany "klucz" do czarnych dziur, który pozwala przetrzymać tunel czasoprzestrzenny i przelecieć przez niego.
Eurytus ma zieloną powierzchnię planety, pomarańczową atmosferę i turkusowe morza. Charakteryzuje się licznymi wzniesienami i górami. Nawiązali kontakt z jedną cywilizacją spoza ich układu słonecznego i prowadzą z nią powolny lecz opłacalny handel. Odbierają też dwa znacznie dalsze sygnały radiowe.
Mapa polityczna
Edit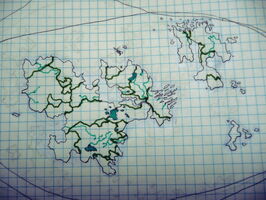 Planeta Eurytus posiada 38 krajów. Wszystkie żyją ze sobą we współpracy. Wojny wygasają na tej planecie.
Kontynenty:                                                                               
Ad blocker interference detected!
Wikia is a free-to-use site that makes money from advertising. We have a modified experience for viewers using ad blockers

Wikia is not accessible if you've made further modifications. Remove the custom ad blocker rule(s) and the page will load as expected.