Mechanika systemu Egzoplanet jest oparta na kościach dziesięciościennych oraz dwudziestościennych, które są decydujące w różnych sporach.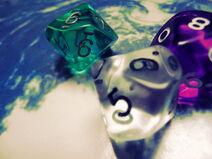 Gra opiera się na fabule stworzonej przez Mistrza Gry, bądź zapożyczonej z podręcznika, strony internetowej, a Gracze mają za zadanie opisywać, co się dzieje z ich bohaterem, co mówią i jakie czynności podejmują w danej chwili. Przed sesją jest możliwe ustalenie przeszłości bohatera, co może wykorzystać później Mistrz Gry.
Ad blocker interference detected!
Wikia is a free-to-use site that makes money from advertising. We have a modified experience for viewers using ad blockers

Wikia is not accessible if you've made further modifications. Remove the custom ad blocker rule(s) and the page will load as expected.